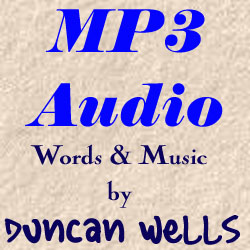 With notes by Duncan Wells, here are MP3 versions of some of the his original songs for adults and children. Some of these files take a little time to download but due to the fact that once you've capture these sound files they are your's to enjoy over and over again and due, also, to the fact that the quality is soooo good we can only say it's worth the wait. Please Note: Once you arrive at the song you wish to listen to you may experience some difficulty in getting it to download. If you do, just hold down your "shift key" while clicking on the word "listen" and you will then be given the opportunity to save the song file on your hard drive.

.

We suggest, while you are waiting, that you go to the kitchen and grab a snack or surf the net. If you do not have an MP3 Player then we suggest you click on the above text. Simply follow the directions and you will be able to download a Winamp Player of your very own!



When Angels Brush Their Hair: This song was inspired by a child who, one day, engaged me in a conversation concerning certain Angel Facts. Fact One: When it rained, the Angels were having a pee. Fact Two: When it was thundering, the Angels were bowling. Not long after this conversation took place I asked myself the question: What happens when Angels brush their hair? The answer to that question arrived upon the writing of this song. When Angels Brush Their Hair went to video in 1997 and was used as a theme song for the Canadian Chapter of Victims Against Violence, an organization made up mostly of people who lost loved ones due to senseless acts of murder. Vocals: Wayne Nicholson
Approximate Download Time: 15 Minutes



County Town: This song rocks! Here is a story of a small town boy who turns his back on his home and his family to search for adventure in the big city. County Town is a rock song, a story of rejection and of big city ways, murder and of life imprisionment. Vocals: Wayne Nicholson
Approximate Download Time: 18 Minutes
Real Audio Song For Children
Buckle Up: The topic of this song is an obvious one but never a boring one. Don't pass this one by because if you do you won't get to hear me play the Lip Trumpet. Buckle Up is a fun drive to the store with Mama in the front seat chewing bubble gum. The radio's on, the windshield wipers are keeping time and everybody just wants to sing along. Approximate Download Time: 15 Minutes



Blame It On A Matchstick: Three little stories about a matchstick, a boy named Lloyd and a man named Bob. This song tells of a house fire that happened because the boy named Lloyd decided to give a little scratch to the match that the man named Bob left lying around. Along with a vivid description of the tragic event, this song asks the question: "Who should we blame?" Should we blame it on the boy named Lloyd? Should we blame it on the man named Bob? Or could we just, well YOU know......Blame It On A Matchstick? Approximate Download Time: 14 minutes



The Bullies On The School Ground: A question parents and teachers have been asking themselves lately is: "What are we going to do about the bullies on the school ground?" This song was written with the intention of generating a classroom discussion between teachers and students. Although it is not expected that this song will stop the "bully problem", it is hoped that, by putting this question to a classroom of elementary children, we might arrive closer to an understanding of the problem. That way we will become better equiped to solve it.



Lazy:Of all of my songs, Hot Diggity Dog's rendition of Lazy is probably the one most mentioned by parents and their children. Those who have seen Hot Diggity perform this song live know that he is an in your face canine who got a thing for cats, knows what he wants to say and doesn't mind saying it. Bobby Keel is the rumpled voice behind Hot Diggity Dog. Bobby suits, not only the character of Hot Diggity, but he plays the role of a mischievious puppy perfectly for this song. Bobby is no longer a member of Duncan & The Apple In A Tree Band to it is in his honour along with his absence that I include this song among those of The Love & Safety Club. Approximate Download Time: 15 Minutes



Kiss The Hurt Away: Here is a song for Mommies and their children from The Love & Safety Club about kissing away the hurt of everyday bumps and scrapes. Although it is bumps and scrapes that are mentioned most, this song also includes a veiled attempt to point out the more devastating hurts of childhood that also need to be kissed away. Approximate Download Time: 20 minutes



Shine: From my third recording The Love & Safety Club, Shine is a song about self worth and the importance of being who we are. In less than a year of the release of The Love & Safety Club, Shine was performed by children in three separate musical productions, one of them being a Christmas Pageant performance in Hong Kong. Approximate Download Time: 16 minutes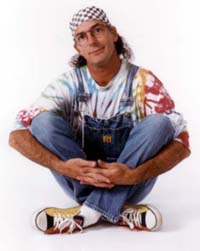 Home To Duncan