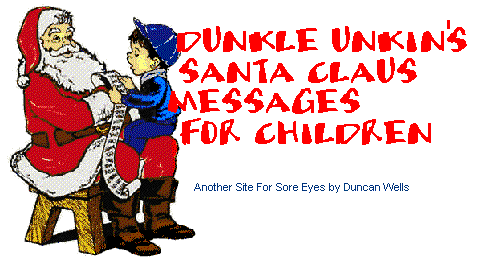 Wendy Tells Sarah That She Loves Her
Here is a unique Christmas gift idea that is sure to excite or bring a smile to the face of that special person in your life. Dunkle Unkin's For Kids offers a personalized Real Audio message from Santa Claus, just like the one you are listening to now, created and recorded to your specifications. All messages include the recipient's name and other personalized information as requested by you. Check out the order form below!
[David Proposes Marriage To Elizabeth]
[Laura Tells Her Mom & Dad That She's Pregnant]
Santa Message Order Form & Information
And Not Just For Adults
Dunkle Unkin's will also create a personalized Santa Message For Children
Be Creative!
Contact Santa Now!
To hear Santa's Message again
please click the arrow