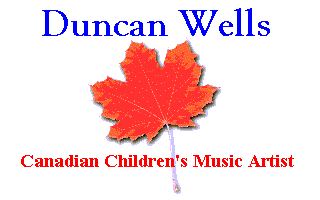 [General Comments]
[Absulum The Reindeer Elf]
[The Love & Safety Club]
[Letters From Cyber-Space]
[Media Quotes]
Discovery: A Canadian Children's Music Artist
Duncan Wells is an award winning songwriter, playwright and recording artist for children. He is the creator of The Love & Safety Club In-Class Safety Education Program and his original songs and stories for children have been available on the World Wide Web to parents and educators since 1998. Since that time Duncan has received numerous comments from parents, teachers and children from around the world concerning his original work. Below, for your reading enjoyment, you will find many of those comments along with links which lead directly to a variety of his original songs and stories. All audio files are in MP3 format and are made accessible by the kind folks at MP3.com. Please feel free to spend some time reading about this wonderfully talented individual, listen to one or more of his songs or stories and be sure to check out The Love & Safety Club while you are here.
The Bullies On The School Ground
---
General Comments
Love the songs. First time hearing Mr. Wells! I'm a children's librarian so I'm always interested in anything pertaining to children. Thanks from the Land of Enchantment!
Pam Hulse
Hobbs, New Mexico
You're a great writer!
Irene Jackson
Victoria, BC
Duncan came to my school when I was in Grade Primary and I still remember every word he said - the songs and everything! There are real good morals behind his music!
Alison
Sydney, Nova Scotia
Duncan your music is the GREATEST! I love the songs Kayakin and Sailing To Bermuda. I love you yes I do.
J. Langille - Age 6
Cape Breton, Nova Scotia
This has to be one of the best sites I have come upon.The Adult songs are wonderful. As The Circle Continues has to be one of my favorites. My son Dylan listened to every song word by word. You have such a great gift!
Gina Mombourquette
Sydney, Nova Scotia
Duncan: You are a gifted and talented songwriter with a naural ability; combining your pure joy of music with your literary artistry. Your songs of time and place, of heart and soul and most importantly, family and moral value, speak to me. Our family treasures all of your CD's. Thank you for your gift of song.
B. Franklin
Chester, Nova Scotia
Hi! I wrote you on Friday telling you how I've been listening to your music since I was 13 and all that. Well, I've bookmarked this site and am going to add it to the links section of my site. This site is great! Later!
Denise Williams
Phoenix, AZ
Man, great stuff! I am glad to know you! Your song I Have A Secret is such a incredible song. I look forward to hearing more of your music. Thanks for saying things that are so important. Peace brother.
Ray
Laura's Dream World
West Virginia
Hey Hey Duncan! I just read Wow Wee What A Nice Pair Of Shoes. I Love it! Thats great! Groovy web site! Tell Sally the Cow that she's far out 'cause she does what she wants, and that she's invited to tea in the sky with me. Peace, Love and Harmony!!
Janice
Arlo.net
Living In The Sky
How cool are you Duncan? Great web site, incredible music and quite the impressive resume. I imagine your children had the greatest lullabies of all time! Keep playing man! Peace!
Laura
Arlo.net
Wild Wonderful West Virginia
I just sort of happened upon your site quite by accident, but it was such a pleasant surprise. The students with whom I work tend to be older, so maybe that's why I hadn't heard of you before ... or maybe it's one of those Canada/U.S. things. I really enjoyed your story about Sally the Magnificent Cow. Good luck to you in the future.
The Lightkeeper
The Lighthouse Library
USA
Hello Duncan, I have to say you've really got a talent! I especially love your tribute song to Stompin' Tom Connors. I wonder why eh! I hope you make it big one day, and I hope you will get a call from good ole' Tom about your song to him.
Mike Dunlop
Stompin' Tom Connors by Mike Dunlop
Ajax, Ontario Canada
Hello Duncan,I really enjoyed your site. Keep up the great work! I will be sure to tell others. Have a great day!
Kathy D.Baker
Glen Rose,Texas
My daughter introduced me to your website. Was very glad to see. Enjoying it very much. Great pages!
Peggy Capps
Leland, North Carolina
I am 8 years old and like your music!!!
K. Melanson
Oshawa Ontario
You have a smooth sound and some real unique songs. You have a nice talent for writing. Keep it up!
Carline & Michael Maroon
Nighthawks2 Music
Lisbon, Maine
Great site! Our Grandchildren love it as well - THANK YOU!!
Shelley Jacobson
Ola Carter
Arizona, USA
I just listened to some of your Real Audio songs for children and I think I'm going to have to bookmark this one for my little man. I'll have to put up a link to your site from my page. You have some great material!
Shelley Jacobson
Shell's Songwriting Page
Thunder Bay, Ontario
Hey your songs sounds very good! I like that and wish you have much fun while doing that. Keep On Singing!
Semi
Berlin, Germany
Bugs!
---
Absulum The Reindeer Elf
I enjoyed this story immensely. Can't wait for my grandchildren to hear it.
Dora
Lutz, Florida
I enjoyed listening to Absulum The Reindeer Elf. Thanks!
John Manley
Guam
This has got to be one of the best stories for children I have heard in A long time. Wonderful job !!! Our grandkids will love it.
Marcia Hall
Pleasant Lake, MI
I like when the sleigh got fixed. I am 3 years old and my mom is typing for me. Thanks for the story!
Austin
New York
Thank you for a beautiful poem. I will be back with my grandchildren!
Grandma Betty
Ft Madison, IA, USA
That reading of Absulum the Reindeer Elf was the coolest thing I have ever seen on the Internet. Are more like this?
Marjorie
Pennsylvania
**Fab story my little girl loved it although she was disapointed that he never delivered the toys!
Linda Baker
England
**You will be happy to know that Absulum The Reindeer Elf had a special gift from Santa's Sleigh delivered to England to Linda's Little Girl
Just wonderful! I really enjoyed your story. I cant wait to read it to my child tomorrow. I have bookmarked and will be back. God bless!
Laura
Twas The Night Before Christmas ~ Rewritten for Childhood Diseasee
Minnesota, USA
I am a grandmom in my mid 50's. I adore you poem, can't want to show it to the grandsons. You are very talented. Thanks so much for sharing!
Charlotte
Charlotte's Web of Fantasy
Alexandria, Alabama
I really think this is a wonderful story we listen to it as a family. The little ones found it very moving. Thanks for the story telling!
Kirk Sheldrick
Greely, Ontario
I love your story about the reindeer, would you please contact me as I would like permission to re-print it in my newspaper for the Dec. issue. Great website and wonderful story.
Noreen
Small Street Journal ~ Children's Family Newspaper
Maine, USA
Very nice story!
Crystal Erb
McClure PA
Yes, very nice!!
Douglas Voirol
Indiana
The story was great! My favorite part was the music!!!
Morgan
Tampa, Florida
The story was delightful, I can't wait to share it with our 3rd Grade students. That is, if it is ok.
Christie Dormaier
Marysville, Washington
Your Christmas Story Absulum The Reindeer Elf?? It's JUST GREAT !!
Anne-Maree
Australia / New Zealand
Great story. It was wonderful to have it read to the students by you.
Student Comments:
Patrice - "It was cute."
Sarah - "The elf was kind."
This is only 2 comments from a First Grade Class.
A. McCowan
Dallas, Texas
Buckle Up
---
The Love & Safety Club
Great site! I've included it on a link to mine for parental reference, if that's okay! Chao!
Gayle Hernandez
Gayle's Kindergarten Page
British Columbia, Canada
Excellent Program!!! My students from last year are still singing the words, loved being a part of a Club and the value of safety was really reinforced and made meaningful for them!! Thanks Duncan!! I am using it again this year and the extra added bonus, is that it even goes with the Curriculum!!
H. Pennington
Toronto, Ontario
Just wanted to say that I like your site and what it is all about. Children are the core and we all have to help lead them toward good things. I have four of my own and I know they are growing up in a tough world. It sure isn't like it was when I was a kid. Thanks for caring.
Sue Dunlap Jenkins
Songwriter Haven
Middleburg, FL
We are doing a unit on Safety and are enjoying your web site. THANKS!!!!!!!
Miss Grisham's Third Grade Class
Mountain View, Arizona
A Nice Pair Of Shoes
---
Letters From Cyber-Space
An Open Letter
Used With Permission
From Jonathan Cohen
Brookline, Maine
Don't ask me where I found this Web page but I've spent about an hour reading and listening to it and I like it. I like it! I LIKE IT!! Your songs and stories are terrific. I'd be happy to show them to my jumpy little niece (she's 7) and pull her away from Britney Spears and the Backstreet Boys. I especially liked the Sally the Cow Story which was downright Dr. Seuss-ish, and the delightful. And your Cape Breton Calypso, You Are The One, is almost too good for kids. I'm also impressed with your play-and-story lineup. In other words if you're so good, what are you doing in Nova Scotia?
With a lifelong soft spot for things Canadian, I've long known about your very active children's music scene and have always enjoyed the likes of Anne Murray, Gordon Lightfoot and Diana Krall. I'm not sure if you belong in the same paragraph as these - or do you? A good song need not be limited to youngsters.
If you ever make it to New England, I know at least a few kids- and their parents- who'd enjoy hearing you. For now, thanks for your time and sharing your talents with us lucky Web-heads. Again, I like it! I like it! I LIKE IT!! Keep up the good work, eh?
Jonathan Cohen
An Open Letter
Used With Permission
From Crystal Mencher
Stevenson Ranch, California
Hello Duncan! I've been listening to TLC this morning while working on my computer, and I love it! I am looking forward to listening to your other music as well. I wanted to thank you again for sending me a tape of your "big people" music! That was very thoughtful of you.
I am a preschool teacher at what's known as a Lab School: A preschool located on a college campus where adults learn about working with children as lab students. I am an Associate teacher, which means that I work along with a Master teacher, Assistant teacher, and lab students. It is a wonderful job.
I printed out your story Sally the Magnificent Cow and memorized it for my grouptime last week. The children loved the story, they listened and laughed and participated. I inserted questions like "What do you think the teacher will do when she comes in the room?" It has inspired all sorts of activities in the classroom. We have done painting on cow-shaped paper, read other cow books, sang cow songs, and are planning more related activities.
Now that I have your songs on CD and tape I am excited about creating activities to go along with them. Being interested in your music, I was wondering if you have ever tried to get a guest spot on US talk shows. Have you ever thought of going on a show such as The Rosie O'Donnell Show? Rosie's audience consists of many children and mothers. The Early Childhood field is exploding here, and children's music is very popular. It was just a thought that I had. I'd love to see you succeed in the US as well!
Thank you again Duncan! Best of luck to you as always, hopefully soon in the US as well as Canada!
Crystal Mencher
An Open Letter
Used With Permission
M. MacNeill
Canada
Hello,
I don't know if you remember talking to me, but I saw you in Sydney at the May Flower Mall over March Break. I know you meet a lot of people after a concert, so if you don't recall our conversation, I completely understand.
My name is Marlane MacNeill and I am mom to four children between the ages of 1 and 10. Two of my children were adopted by my husband, Ralph and I a number years ago. At that time, the oldest of our two adopted children was less than six years old. The day after receiving custody and making the long trip to take them home, we went to see a Duncan Wells concert. It took some time but soon, the newest members to our family finally began to dance, and they danced like they had never done before. On the way home the oldest said: "It feels good to be a kid, I like it".
This marked a significant event in their lives. They come from a very difficult background, one that I thought only happened on T.V. Since that day, although there were a lot of bumps in their road (and still are) they have come to associate you with the day they belonged to a "real family". We still have a lot of problems to work on and they both have special needs that will be life long, but the big picture shows a miraculous improvement. We were told: "Don't expect much and you won't be disappointed". They are both in regular school with assistance and resource and are doing well academically.
When we hit rocky roads, I have discovered that playing your music can help a lot, one of the children experiences a problem with depression and rage, but if I can catch him early enough, the music seems to calm him, heading off a rage before it starts, and drying tears.
I know this is a lengthy letter but I wanted you to see just how important you are to our family, you will never know exactly the extent of my appreciation of who you are as there are no words to describe properly. I do know, however, as we await a bed in an Out-of-Province Children's Hospital for one of them that I will be packing his Duncan Wells tapes for him. Please keep doing what you are doing, shining like a star and showing my children how to shine as well. Thank you for being you.
God Bless
M. MacNeill
Canada
PS: The children would like to email you sometime soon.
See Saw Song
---
Media Quotes
"His lyrics indicate an above-average understanding of the pre-school mind." ~ John Hoffman - Today's Parent Magazine
"This musical secret will soon be known to the rest of the world." ~ Ken MacLeod - The Cape Breton Post
"He is one of those multi-talented individuals whose creative genius streaks everything he touches." ~ Marci Lin Melvin - Amherst Daily News
TLC, Duncan Wells' second album is certainly worthy of a national audience." ~ John Hoffman - Today's Parent Magazine
"Cape Breton has produced yet another treasure" ~ Carla DiGiorgio - The Cape Bretoner Magazine
Kiss The Hurt Away