WELLS SHINES IN SECOND ALBUM
by Ken MacLeod - The Cape Breton Post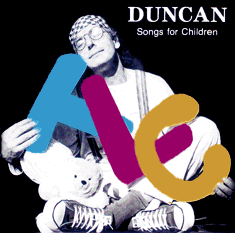 Coming up with a worthy follow-up to a successful debut album is one of the more difficult things to accomplish in the music business but Duncan Wells has pulled it off in fine style. And he's done it all as an independent, with no help from a major record label.
TLC, Wells' second album of original children's songs, recorded with his Apple In A Tree Band and some talented guest musicians at Island Recordings in Frenchvale, is a considerably better quality recording than Ladder To The Sky. And, on the whole, the songs are just as strong as those contained on the 1992 album - no mean feat, considering Ladder To The Sky's tunes were as well-written and sharply focused as any major label children's album produced that year.
There are no weak songs on the 12 song album, which was produced by keyboard player David Burke, but a select few stand out from the rest. Not surprisingly, the very best songs would appeal just as much to parents as they would to their children.
My own personal favorite is, "My House", the final cut on the album. Not only is it a great lullaby for putting the kids to sleep at night, but the deceptively simple lyrics paint a beautiful picture of the joys of home and having a place of your own. Musically, a quiet piano intro sets the stage perfectly.
"Tell Me That You Love Me " is another first-rate song that uses a gentle melody and clever lyrics to paint a picture in words. To a child, picking petals from a flower has a somewhat different meaning than it would to an adult, but the song is an affecting and gentle ballad for all age groups.
I suspect that young children will get the biggest kick out of "Lazy", a hilarious duet featuring Hot Diggity Dog (Bobby Keel) and Wells. Like most of the other songs on the album, it teaches a valuable lesson "it's selfish to be lazy and not help around the house", but in a gentle non-preach way. Another deceptively piece of well-crafted songwriting that will be a favorite with the kindergarten set for years to come. The album even includes a neat little instrumental "The Barn Owl Dance".
Other great songs include "Zachariah and Mary Beth Dalton ", a longish story song that features Richard Burke and Bette MacDonald as two mischievous kids left home alone by their mother, and "This Is The Left ", a marching song that teaches children the answers to simple questions in a light-hearted way.
Add to the package great cover art by photographer Carole Kennedy and a solid graphic design by Stephen MacDonald and you get one of the freshest and most interesting productions put together on the island in years. Look out Fred Penner, Duncan Wells is ready for the big leagues.