LADDER TO THE SKY ALBUM FIRST-RATE PIECE OF WORK
by Ken MacLeod - The Cape Breton Post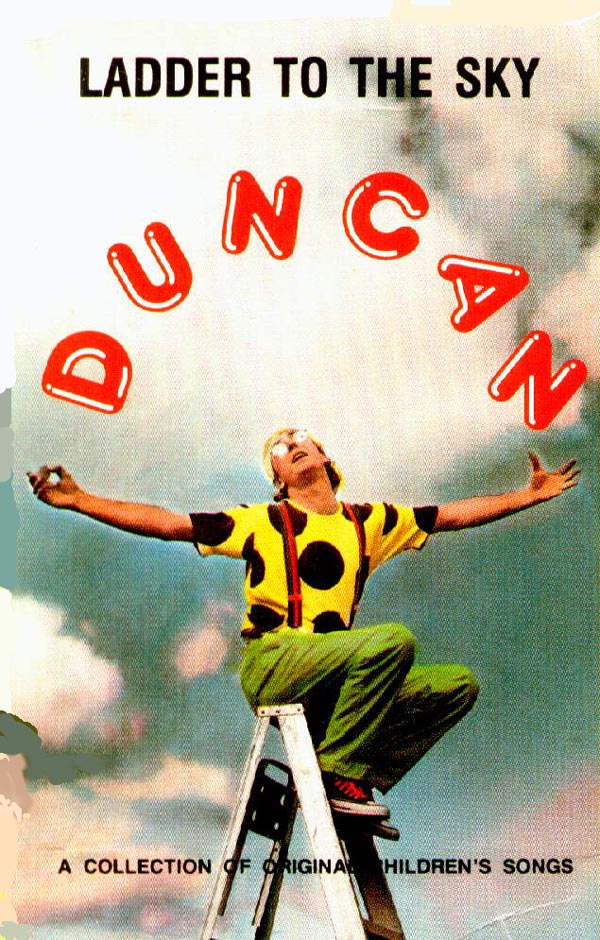 Anyone with children can tell you that finding a tape or CD of decent children's music is one of the toughest things a parent can do these days. Plenty of first-rate children's books have been written over the years, but children's music is a fairly recent phenomenon, meaning that quality work is in short supply and new releases worth playing more than once or twice don't hit the shelves all that often.
Well, now you can add a locally-written, recorded and produced album to the short list of worthwhile children's music. Duncan Wells' Ladder To The Sky, the first release on Stephen MacDonald's new Beak Music label, is a first-rate piece of work that should be heard by as wide an audience as possible. What makes Wells' album special is, first and foremost, the songwriting. Wells, one of Cape Breton's most interesting songwriters, has written a number of excellent songs that have been covered by the Cape Breton Summertime Revue at one time or another but he'll be the first to tell you that writing and performing for children is what he loves best.
Ladder To The Sky consists of ten solid Duncan Wells originals, most of which feature bouncy and lively melodies and playful and simple lyrics. Some are downright hilarious and others a little more serious, but all were obviously written with an ear for what would please a young child most in song. I don't claim to know what the kids might like best, but my favorite cut on the album is "A Nice Pair Of Shoes"; the song features a snappy melody that should get the kids' (and their parents, too) feet tapping plus some really hilarious lyrics ("...moonwalk, fox-trot all the way to school...") and the Miracle Sisters derisive chorus of "what do you expect for a dollar ninety nine? Ha, ha, ha, ha!" at the end. For some reason, it breaks me up every time.
The most accessible track for moms and dads is the title cut, "Ladder To The Sky", a gentle lullaby that should find it's way onto a radio playlist somewhere. With it's rocking chair beat and smooth vocals this is an ideal song to get the little ninja turtle clones calmed down for bedtime.
The rest of the songs on the album are in the same ballpark so far as quality goes. Each song is written with a distinctive melody to suit it's message and subject matter - unlike some other children's records I've heard in the past, this one doesn't start out ok and then degenerate into a bunch of songs that all sound the same. Each song is fully capable of standing on it's own, regardless of where and when it is played.
Now, if only we could talk Duncan into putting out an album of originals for us adults...