Holy Redeemer Senior Folk Choir


Diane Morrison
Delores Henick
Theresa MacQueen Deneyse Johnston Rose Mombourquette Leona MacNeil
Dorothy Smith
Julie Gatza
Sandra Boudreau
Sylvia Young
Anne Marie Campbell Cathy Urquhart

The Miracle Sisters


Bethany Watt
Jasalynn Skeete
Hannah Buhariwalla
Samantha Parris
Natasha Parris
Rachael Colford
Rebecca Colford

The Miracle Brothers

Dylan Mombourquette
Wesley Colford
Thomas Colford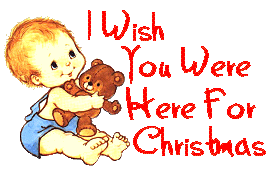 The Songs
The Apple in A Tree Band would like to wish you a Merry Christmas and welcome you to our World Wide Web Release of I Wish You Were Here For Christmas. We hope you can find time to listen to some of the songs from this wonderful collection of Family Christmas Songs.
Please do not attempt to copy
these songs to Cassette or CD.
The collection of original Christmas Songs you are about to listen to were written by Duncan Wells. If you are interested in purchasing a copy of I Wish You Were Here For Christmas please find ordering instructions at the bottom of this page. To listen to the songs simply click the song titles.
To return to this page
you must click your browser's back button!
I Wish You Were Here For Christmas
Christmas Angel Wings
That Is What I Want For Christmas
A Puppy Dog Tale
Absulum The Reindeer Elf
Me & Theresa Underneath The Mistletoe
Ring Them Bells
Through The Eyes Of A Child
A Big Red Sleigh
Song Of Hope For Christmas

The Apple In A Tree Band
Aaron Lewis
Keyboard, Guitar, Kazoo and Backing Vocals
Brian Martin
Bass Guitar and Backing Vocals
Carl Calder
Drums, Percussion and Backing Vocals
Duncan Wells:
Vocals, Kazoo and Acoustic Guitar
Featured Artists
Bobby Keel
As Hot Diggity Dog
Joe Parris
Tenor Saxophone
Papa Joe Waye
Electric and Acoustic Guitars
Shauna Lee MacKillop Harmony Vocals
Suzanne Colford
Fiddle